More professional looking PDF invoices and quotes
The built-in WHMCS PDF generation is pretty limited, with only two configurable options: page format and font. Are you tired of, or overwhelmed by, tinkering with php files to get acceptable results?
BestPDF has got you covered. This module massively improves the way WHMCS generates PDF invoices and quotes. With its easy to use GUI, it allows you to set over 200 different parameters that allow you to create your PDF invoices and quotes the way you want.
This allows for better quality output, since you can place anything you want in your PDF template like your logo, company information, banking information etc. BestPDF will then draw the customer address, invoice details, items and transaction table where they belong and you get the perfect invoice!
Plenty of features
Use PDF templates for high quality output – BestPDF will draw the invoice on top
Upload custom TrueType fonts
Highly customizable with over 200 configuration parameters
Set layout, positions, formatting, fonts and colors of all the various invoice/quote elements
Output HTML items and text in PDF, HTML and Emails
Supports long, multiple page documents
Supports LTR and RTL languages
Integrates with the BlueRabbIT Pingen.com module (optional)
Integrates with the BlueRabbIT Swiss QR/ISR module (optional)
Actively maintained
This product is actively maintained and we use it ourselves.
We are here to listen, so if you have any requests or problems, we will be happy to assist you and further improve the product.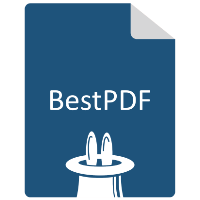 Supports Invoices & Quotes

Integrates with BlueRabbIT Swiss QR

Integrates with BlueRabbIT SEPA QR

Integrates with BlueRabbIT Pingen

Compatible with WHMCS 7.0 – 8.x
CHF and USD currencies also available
* Includes 1 year free support and updates – each following year will cost 25€ (optional)